Thanks to Krystle from my Grey's Anatomy group for sending this to the group today.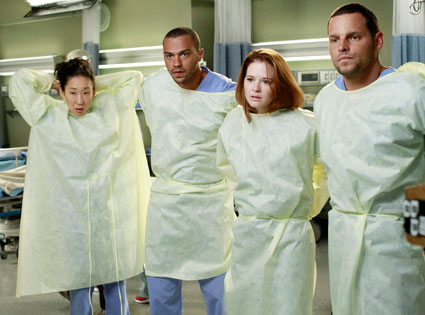 Only one more week until the
Grey's Anatomy
season premiere and we know you're chomping at the bit for some scoop on the two-hour episode. Between Mer-Der drama, Meredith job drama and a little Cristina-Owen crisis that you guys probably don't care at all about (ha!), there's a lot going on.
A lot.
We got an early look at the super-sized episode, and ours heads are still spinning with all the emotional and medical action going down in the premiere. But what are the top five things that got our hearts pounding and we just
had
to share with you? Find out now:
1. Baby From a Broken Home:
As we know from the
promos
, this episode has a Meredith (
Ellen Pompeo
) domestic crisis, front and center. Remember that pesky fight about tampering with a clinical trial? Apparently Derek (
Patrick Dempsey
) still isn't over it. But life continues and so does the impact of motherhood on a certain awesome surgeon's future. Some want it, but others would rather have a five-gauge needle to the eye. Hmm…who could that be? In Thursday's premiere we will learn exactly which docs are cut out to be parents. We can't tell you everything, but we can tell you that Owen (
Kevin McKidd
) surprises us the most. Like, whoa.
Whoa
.
2. April's First: First day as chief resident, that is. And let's just say it doesn't go well at all. April (Sarah Drew) cannot get a handle on her notoriously headstrong docs and it leads to a potentially disastrous result. Like so bad she could be fired on her first day.
3. Holy Sinkhole, Batman:
Sometimes it just feels like the earth has opened up and eaten the unlucky heroes alive, but this time it actually happens. However, with the bad comes some good and even better, familiar faces. If you are a
Deadwood
fan, you might squint and recognize
Robin Weigert
of Calamity Jane fame. Also perfectly heartbreaking:
Mackenzie Astin
. But we've cried with him over tragedy before. Remember the dog sledding flick
Iron Will
? Netflix it.
4. Plastics Make the Heart Grow Fonder:
It's not all near disasters for the docs, there is a very strong vein of humor throughout this episode. Once again Mark (
Eric Dane
) and Jackson (
Jesse Williams
) bring the funny to an otherwise stressful day at Seattle Grace Mercy West. Jackson has a new found interest in plastics but being Lexie's (
Chyler Leigh
) current boyfriend won't win him any popularity contests with Mark. However skills and leadership might. Odd couple for the win. And there's even a little something to keep the Mark-Lexie hope
alive
.
5. Heartbreak Hotel:
While watching we were all prepared to tell you how surprisingly lighthearted this episode was, but it turns out we were bawling by the end. Completely ugly crying. Once again showrunner
Shonda Rhimes
brings us to tears and sets up what we hope will be a good fight.
Are you super excited for
Grey's Anatomy
's eighth season premiere? We know we are, and we already saw it! That's how good it is.