A great article on Joshua Jackson's character on Fringe--"Peter Bishop"
.
I have such mixed feelings on this but I know that JJ Abrams will give us a fantastic new season if we have any hair left by then.
Here is the article from Digital Spy.

'Fringe' Joshua Jackson: 'Peter will be a changed man'
Warning:
This article contains spoilers that some readers may prefer to avoid. Please
click here
if you wish to continue.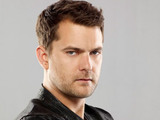 Joshua Jackson
has hinted that Peter will be "a changed man" in the new season of
Fringe
.
Jackson's character was
erased from history
in the sci-fi drama's third season finale, but will
return in some form in future episodes
.
"My hope is that the journey of Peter and the journey of the show pays off that cliffhanger we saw at the end of last year," the actor told
Entertainment Weekly
. "In the beginning of this year, we're back in our timeline but without one of our main characters.
"We see the lives of all the people he would have touched and, for better or for worse, we see what their lives would have been like without him."
Jackson added that he is looking forward to work on "a new permutation" of
Fringe
with an "entirely changed" dynamic.
"It's a pretty cool conceptual thing to allow the show to go off in this direction," he suggested. "The show is going to be grappling with [Peter's disappearance] from an emotional point all year.
The actor also hinted that fans may have seen the last of "the Peter we used to know".
"His journey was to grow up and become a man, become part of a family and dedicate himself to something," explained Jackson. "So I think the guy who would come back to us now would be a changed man."
Fringe
will return to Fox on Friday, September 23 at 9/8c.